An integrated real estate company that uses the power of people and technology to estate development for our customers' pleasant life
J-REX Corporation ("J-REX") breaks away from conventional ideas that have dominated the real estate business in Japan to create new value that fits the times. It is engaged in a real estate business based on accurate consulting as a professional that makes full use of its extensive track record and solid know-how. "It's about quality, not quantity," and "the heart underlying things on offer matters more than the things." J-REX offers housing that effectively responds to diverse needs that change with the times and that embodies the true value sought by residents.
Continuing to offer coexistence with the city while looking ahead evolving lifestyles
Outstanding track record of 20 consecutive years of sales and profit growth and Good Design Awards
J-REX is an integrated real estate company that is mainly engaged planning, development, and sale of condominiums, as well management and retention. J-REX carefully selects outstanding locations in the 23-ward area of Tokyo to plan and develop unique condominiums that reflect the lifestyles of residents and the special characteristics of each area, from singles and DINKS to families. J-REX has been able to rapidly respond to changes in the times, which has enabled it to achieve 20 consecutive years of sales and profit growth. The company has not stopped there, it is still pursuing further aspirations. For example, it is focusing on the exterior design, equipment, and specifications of buildings. J-REX collaborates with renowned architects and influential designers to pursue advanced technology and quality. Rexceed Ryogoku Ekimae, which embodies such efforts, has adopted a three-sided approach on the exterior because the atmosphere of streetscape differs in three different directions. The FY 2017 Good Design Award was received in recognition of how the response to the surrounding context is considered in the exterior design.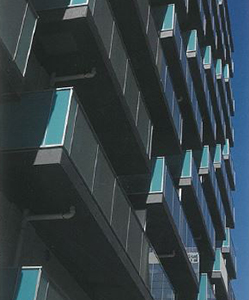 Left: Exterior of the FY 2017 Good Design Award winner Rexceed Ryogoku Ekimae (full occupancy as of February 2016)

The Good Design Award is sponsored by the Japan Institute of Design Promotion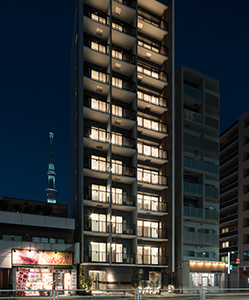 Reone Kinshicho Tower View (full occupancy as of March 2019)
Design residences with a high degree of livability that leverage the experience and know-how of J-REX
Designers are hired for the exterior design and interior design of buildings to offer design and functionality that meet the needs of the residents, including those with a woman's perspective. Based on the concept of merging the city and nature, REASIS Shin-Yokohama Park Front is the only project to receive an award for excellence in the mid to high-rise condominium subdivision (large-scale) category at the Awards for Excellence sponsored by the Japan Association of Home Suppliers. The Shinjuku East Cross Tower was designed in collaboration with Tange Associations, which was established by world-renowned architect Kenzo Tange, to create a new urban landmark. It will open up new possibilities from Shinjuku to the world.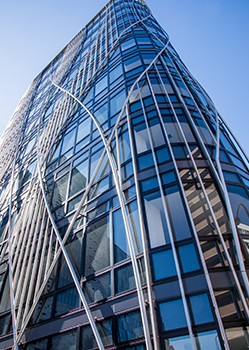 Left: Exterior of Shinjuku East Cross Tower (full occupancy as of January 2018)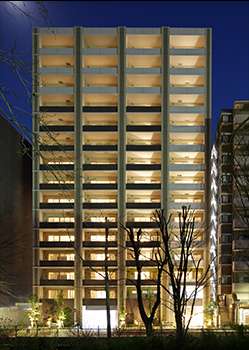 Right: Exterior of REASIS Shin-Yokohama Park Front (sold in 2016)
Offering valuable lifestyles through business development that captures the needs of the world
 J-REX has developed a series of income earning condominiums with excellent design and functionality, mainly in the 23-ward area of Tokyo. It opened a new style of hotel utilizing IoT in 2019. In addition, J-REX has launched Fudosan ITTO, a website dedicated to buying and selling single-building condominiums, and Income Property ONLINE, a website that provides all kinds of useful information on real estate investment, as well as an asset management app for owners. In this manner, the company is thinking about how to develop highly profitable real estate and improve people's lives through the power of people and technology, to provide high value-added spaces.
Left: Exterior of Reone Higashi-Nihonbashi Ekimae (full occupancy as of February 2019)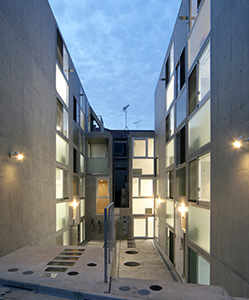 Right: Repure Sangenjaya (full occupancy as of January 2019)
Social contribution projects that J-REX Corporation is engaged in
J-REX carries out a variety of activities based on the responsibility it has toward its impact on society. For example, the company holds various circle and seminar activities with residents and people from the local community to promote communication with customers. Among these activities, its nutrition education seminars and running events supervised by the Yokohama F. Marinos have been particularly popular. In addition, J-REX has also supported the construction of an elementary school for Cambodian children who are unable to receive an education due to various reasons through an NGO. The company also held a traffic safety class and gave yellow hats to children as gifts to prevent traffic accidents.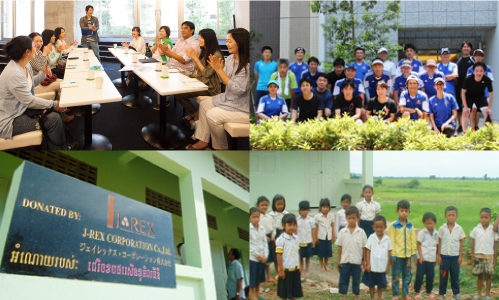 Enthusiastic young employees are the source of the company's growth
Corporate
Established on

October 8, 2002

Paid-in capital

895.88 million

Sales

15,747.09 million (June 2019)
16,062.53 million (June 2020)
16,233.78 million (June 2021)
16,524.26 million (June 2022)

Representative

Hideki Haruta

Business

1) Planning and development of condominiums
2) Administration and management of income Properties
History
2002

Starts sales agency service
Starts real estate (for sale and rent) brokerage and management services
Launches "Re-More" business (regeneration and sales of used condominiums)

2004

Launches project for development of private-brand condominium

2005

Acquires major corporations' unused housing for their employees as part of "Re-More" business

2006

Launches real estate liquidation business

2007

Launches independent housing business
Registered as condominium management business

2009

Launched income property management and retention business

2012

Launches trunk room business

2014

Launchest a short stay apartment business

2016

Acquired special zone vacation rental certification in Ota Ward

2017

Acquired privacy mark

2018

Open IoT Hotel

2022

Achieved 20th consecutive sales and profit increase
Member of Japan Association of Home Suppliers
Member of the Tokyo Metropolitan Real Estate Fair Trade Council
Member of Tokyo Metropolitan Government Building Trading Association
Member of National Real Estate Transaction Guarantee Association
Real Estate Brokerage Business License from Governor of Tokyo (5) No.81371
First-Class Registered Architect, Governor of Tokyo, No.56723
Registered Condominium Manager, Minister of Land, Infrastructure and Transport (4) No.033058
Member of Real Estate Tech Association for Japan